SMS Marketing for Home Shopping in the Mobile Age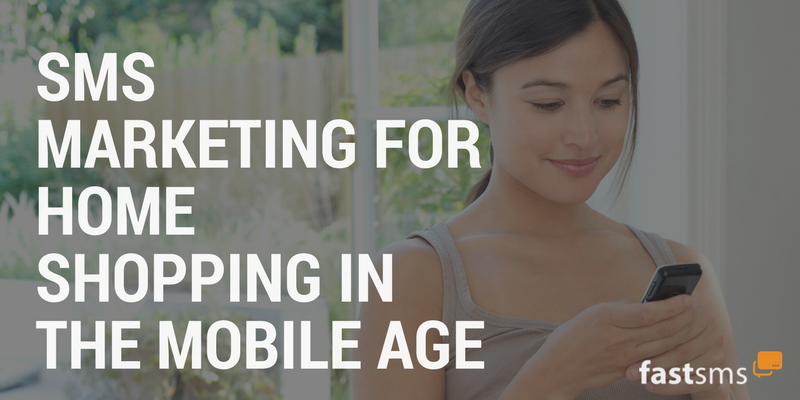 A little over a decade ago, even industry experts might have laughed at the idea of everyone being able to buy whatever they like, wherever they like, simply through their mobile phones (remember, Apple only released their first iPhone version in the UK in November 2007). Fast forward to now, where we've already forgotten that we once survived without smartphones and shopping from mobile devices is a serious and booming business, even being dubbed 'm-commerce'.
Mobile overtakes desktop
Mobile commerce has already overtaken desktop purchasing in several countries, including the UK and is continuing to grow exponentially across the globe. This year, Google will launch mobile-first indexing which means that mobile-friendly websites will be boosted in rankings above desktop. It is more than a trend – it marks a shift in consumer buying habits because users like the convenience. As people are choosing to shop via mobile devices, this is also how and where businesses need to be focussing their marketing to reach their customers.
While the internet and e-commerce are fairly recent, only being widely available for the past 20 years or so, distance selling is not a new phenomenon, although the methods of contact used have changed over the years, from postal to telephone to internet and now the mobile internet. There are plenty of businesses who have operated for many decades and have successfully weathered the changes in technology and buying habits so we thought we'd look at how a traditional distance selling business sector, home shopping, has evolved to make the most of mobile marketing through SMS text messaging.
The role of SMS Marketing in home shopping
The biggest home shopping catalogue companies in the UK are mature, established businesses, some have operated for a century or more, originating in a time before the internet existed, when they relied on customers placing orders by post, and then by telephone.
For decades their business model has been to offer a wide range of clothing, jewellery, electronics and household goods in a similar capacity to department stores but enabling customers to spread payments with personal credit accounts. Older generations may remember that families and neighbours used to form 'clubs' where someone would act as a retail agent for the group to take orders, collect payments and distribute deliveries.
But then the internet arrived, dramatically altering the home shopping market, especially through the mid-nineties to the mid-noughties. Around the same time, personal credit became more readily accessible, resulting in the chunky paper catalogues beginning to fall out of favour. These factors contributed to a steep decline in sales, and eventually, the situation forced the sector to radically rethink and overhaul their approach as media articles accused the industry of being too slow to keep up. In 2005, the retail analyst Mintel found that shopping through traditional catalogues had dropped from 53% to 25% of the market as internet shopping overtook.
Recognising change and adapting to technological advances and consumer buying habits has ensured these long-running businesses remain successful and relevant. Not only have they adapted well but they have embraced innovation and the additional methods of communicating with their customers and for their customers to communicate with them.
While the majority of successful home shopping businesses now operate a huge online presence, they also effectively make use of various channels such as email, apps and SMS Marketing to contact their customers, promote products and encourage sales. Shop Direct (who own the brands Littlewoods and Very.co.uk) published figures in 2013, almost 5 years ago now which showed that 27% of their total sales were through mobile devices and that figure is rapidly growing year on year.  Of course, much of these sales are through people simply browsing for clothes on their mobile devices but how exactly do these companies effectively utilise SMS marketing to keep their customers regularly purchasing?
Create a personal touch by providing tailored or selected discounts at appropriate times, such as texting customers to wish them a happy birthday with a 20% discount code. Another example is to send customers offers on items similar to what they have previously or regularly purchased.
Advertise special events and promotions, such as Black Friday, Christmas gifts or sales with structured imaginative campaigns. These can be more than just single texts to customers, some involve a daily message over several days where the customer receives a notification linking them back to the website or app to participate. An example is a Christmas campaign which sent a link for customers to open a different Christmas 'present' (or deal) each day in the run-up to Christmas.
Remind customers if they have left items waiting in their shopping carts, phrased in a friendly manner, such as ''have you forgotten me?'' to prompt them into making a purchase of items they have clearly been thinking about but may have forgotten.
Let customers know when new products or ranges are unveiled and encourage viewing and purchase through special offers or exclusive previews.
Entice those who have cleared their credit accounts to spend again with a message offering tempting discounts, free gifts or money back on orders over specified values.
Inform customers of order, delivery and returns status.
Allow customers to review purchases and provide feedback in a simple quick process.
Alert customers when account payments become due, with a friendly reminder message around 2 days before the actual expected payment date, repeated on the date.
Remind customers when payments are overdue and giving links or phone numbers if they need further assistance.
Warn customers of potential fraud on their credit accounts by asking them to confirm that they authorised any unusual or new activity.
In any business sector, it is the companies that evolve and adapt quickly to changes in consumer buying habits and spending power which are those that not only survive but thrive.
For cost-effective marketing and to beat the competition, prioritise your marketing focus on mobile devices to keep your distant customers close.
To start making the most of the opportunities SMS Marketing has to offer your business in 2018, give our team of experts a call now on 0800 954 5305 and we'll be happy to give you all the help and advice you need to get started.
For many businesses it's often a knee-jerk reaction to create an app, or to run mobile ads, or to start an SMS list. But without really understanding what it's all about, you can waste a lot of time and money before realising what you actually need to do.