6 SMS Marketing Ideas for Events Planners
Whatever the event you are planning, from a seminar, product launch or grand opening to a concert or trade fair for hundreds or even thousands of people, SMS Marketing is a powerful, versatile and cost-effective tool that has a variety of uses to help ensure that your participants and attendees enjoy the very best experience and make sure your event is as successful as possible. So how can SMS Marketing be used by event organisers? We take a look.
1. Selling tickets with SMS Marketing
The British public is spending less and less time tied to a computer screen at a desk and more and more time on the move, with their mobile phone the most important device for managing a majority of their activities including internet browsing, messaging and purchases amongst others. With mobile browsing now on a trajectory to completely dwarf desktop browsing over the coming months and years, now is the time to focus our attention on the power of the handset. But did you know that selling tickets for your event via a user's mobile phone does not necessarily mean investing heavily in developing a mobile app? With SMS Marketing, there are two approaches that can both be highly effective. The first is to use SMS messaging to send a link to your mobile friendly booking page, allowing the customer to click and open directly from the SMS. An example message might read something like:
"Book your tickets for the Career Fair, Cardiff now. Early bird discount now available online. Visit careerscardiff/book to guarantee your space now."
Alternatively, you can set up your SMS Marketing campaign in such a way that your customers simply reply by SMS to express their interest, allowing you to follow up the booking by SMS or telephone. In this situation, the message might look something like:
"Book your tickets for the Career Fair, Cardiff now. Early bird discount now available online. Reply CARDIFF2018 to book your places now. Prefer a callback? Reply CALLME and we'll be right in touch."
Although the second approach may require a system for processing payment, it is worth noting that using solely SMS Marketing does have the advantage of minimising the number of steps a customer has to take – meaning the potential for conversion is as high as possible.
2. SMS Marketing for e-tickets
Of course, when it comes to effective events management, selling tickets is only part of the equation. One of the most important challenges at any event is managing admissions on the day. Traditional printed tickets are costly in terms of both production and mailing, as well as being time-consuming to check. A highly effective alternative that is efficient, environmentally friendly and can minimise staffing costs and queue times on arrival is SMS e-ticketing. All that is required is to send an SMS message with a ticket code in text format, or for maximum efficiency, send a scannable QR code, which could even be supported by a self-check-in system, technology permitting.
3. SMS Competitions
When it comes to events, SMS competitions are a great way to engage with audiences and increase awareness for your brand or cause. For trade fairs, SMS competitions may feature the chance for visitors to win products, services or special discounts from participants. This is great not just for the event production company itself, but also to increase brand exposure for those exhibiting and give added value to participants. Other ideas for SMS competitions include tickets for extras such as the event's gala dinner if applicable, or for future events of a similar nature. Another very popular form of SMS giveaways is backstage passes or enhanced access/upgrades, as well as merchandise.
SMS competitions can be run by setting up a virtual mobile number to allow customers to reply to your SMS messages just like they would a normal message, or can use a shortcode, which is ideal if you wish to encourage entry via digital displays, printed media or announcements during the event.
Click here for more information about receiving SMS messages.
4. SMS Marketing to increase engagement
SMS competitions are just one way of using SMS Marketing to increase customer engagement during your event. Another popular approach to encourage your audience to get interactive is to allow them to send messages to the organiser or, for example, a DJ or presenter so that they can be displayed on the big screen. Just as with SMS competitions, you can set up your SMS Marketing account to receive messages using a Virtual Mobile Number (VMN) or shortcode, before relaying them to your displays. The beauty of using SMS in this manner is that it can allow virtually real-time interaction with your audience and turn them from passive viewers to brand activists and ambassadors with a minimum of effort.
5. List building with SMS Marketing
SMS Marketing is a great tool to help you build your marketing list and is probably the most convenient way to do so during an event, where the mobile phone is likely to be the only device your attendees have access to. You may wish to have floor staff to encourage sign-ups during the event itself, add sign up adverts on the event media and even merchandise, or collect SMS Marketing registrations through your booking system. Most importantly, make sure there is a clear statement as to what the customer is signing up for and express consent to receive such messages to ensure compliance with the relevant regulations. As long as this is done correctly, get out there and collect those numbers!
6. SMS Marketing for Staff Management
Before we conclude this article, it is worth noting that SMS Marketing is not only great for communicating with attendees – it is also an excellent tool for managing staff in the event environment, where a mobile phone is likely to be by far the easiest way to reach staff. SMS messages can be used to confirm dates, times and locations, arrangements on the day, check-ins to the site, security updates, re-assignments of personnel and much more – using SMS as your primary communication channel can save costs compared to using radio handsets as it relies on technology that your team is likely to already have. It also allows full storage and monitoring of both outbound and inbound communications which can be audited for future improvement and other purposes.
Here at Fastsms, our experts have worked with numerous event management companies to help use SMS Marketing to improve the experience for both staff, attendees and participants. To learn more about how you can benefit, call now on 0800 954 5305.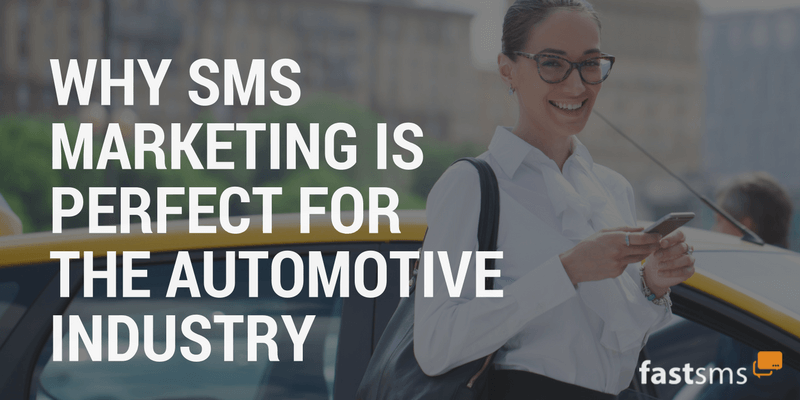 Most car dealerships and garages already have almost everything in place to start an effective SMS marketing campaign. When customers go into a car garage to have a service or a MOT done, they almost always give the dealership their mobile phone number. The reason for this is simple: if a customer is bringing their car in to get checked and they don't want to wait around for any work to be carried out, they'll simply head into town or run a few errands, until the garage gives them a call on their mobile to let them know the work has been done. That means most garages will have a healthy amount of mobile numbers already in their database, but quite often a garage will overlook the potential that their database of contacts presents.