How Sports Clubs and Fitness Centres are Using SMS Marketing to Their Advantage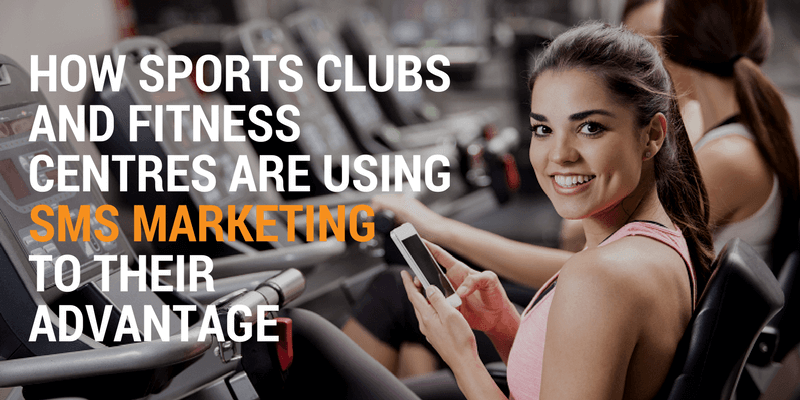 Statistics show that a huge 98% of text messages are opened within the first fifteen minutes of being received, so it's little wonder that sports organisations and fitness centres have been looking to take advantage of a potentially lucrative market.
Maintaining Interest
Sports clubs have to maintain the interest of their fan base throughout the season, as well as keep their supporters updated in-between seasons, and SMS marketing has proven to be a great tool in helping them do that. Not only can they provide their fans with up to date schedules and scores, but there's also the opportunity of promotions and contests designed to keep fans fully engaged throughout the year.
Keeping in Touch with Members
Gyms and fitness centres have also been taking advantage of SMS services simply because it's an easy way for them to keep in touch with their members. With far more people reading their texts than their emails, SMS marketing is a great way for gyms to stay in the mind of their member base. The more people they get through the door, the more money they are going to make, so SMS messaging provides them with a simple way to do everything from reminding members about opening hours to introducing them to a new class they may be interested in.
A simple SMS to a member may read something like 'Hi Alan, we're just getting in touch to let you know that you could earn £25 cash simply by referring a friend to sign up at our gym'. With the high open rate that comes with SMS marketing, a message like that could motivate the current member base towards creating new customers for the gym.
Sports clubs also have a raft of supporters and members just waiting to be contacted regarding offers, promotions and news. As a sports club, you already have an engaged audience base, so the right SMS message could prove to be highly beneficial. Don't forget that fans usually want to hear from the team they support and they want to feel as if they're part of the club. SMS marketing allows them to feel more connected whilst at the same time manages to advertise upcoming games and promotions.
Growing the Contact List
Recently a lot of sports clubs have been running campaigns within their ground or stadium. An advert could read 'text WIN to 87007 for a chance to win a pair of tickets to next week's game.' As soon as a spectator chooses to enter the competition, they are automatically opted-in, which means the club can repeat market them. Ultimately it's about increasing the number of marketing contacts the sports club has at their disposal, and ticket promotions and competitions are a great way to do that without costing the club much money.
Similar techniques have also proved to work well for gyms and fitness centres. A well-placed sign within the gym encouraging people to write down their phone number with the promise of winning a free month's membership or a free class could result in hundreds of new contacts. Customers generally want to hear from their gym, particularly if a class has been cancelled or there is a change to the opening hours, so most of them won't be too concerned about sharing their mobile number, particularly if it means they're in with a chance of winning something.
Acting Quickly
SMS marketing has allowed both sports clubs and fitness centres to act quickly if there's something that needs addressing quickly. If for example, a certain gym class is undersubscribed and the gym wants to encourage more members to attend, they know that they can quickly launch an SMS marketing campaign aimed at members who have perhaps shown an interest in the class in the past but have failed to attend it. In this case, the message may read something like: 'Hi Anna, spaces are available for our Zumba class tomorrow at 10am, text back 'YES' to secure your spot and get 10% off'.
A sports club can also react quickly to numerous situations. If for instance, a club knows that they're going to have a few empty seats ahead of a game, they can quickly set up an SMS marketing campaign within minutes complete with an offer. The club would also be able to measure the success of the campaign within hours of sending it out simply by checking ticket sales. This technique has been used by football clubs and more throughout Britain and has continually proved to be a highly effective way of getting more people through the gate on match day.
Earning Trust
If a member or a supporter of a club chooses to opt-in to receiving SMS marketing, then they're going to want to receive news, as well as up to date scores and stats. This is a simple way for supporters to keep up to date with their team, and if the sports club does it well, they will earn the trust of the supporter, which makes it a lot easier when it comes to pushing promotions or attempting to upsell them.
For gyms and fitness centres, simply providing the customer with key information on changes to class times or seasonal opening hours is going to earn trust. There's nothing worse for a member than getting to the gym to find that their class has been cancelled or that the gym has closed early. By using SMS services, a gym can ensure that a customer is kept up to date at all times, and again, if a gym or fitness centre does this well, they will earn the member's trust which ultimately makes them easier to sell to.
Cost-Effective
Sports clubs, gyms and fitness centres who use SMS marketing techniques well have found that using business text messaging is one of the most cost-effective ways they can communicate with their members or fans. Being able to get in touch with an entire fan or membership base means that they're able to sustain interest all through the year, as well as potentially grow their contact list. Above all else, though, it enables them to improve their bottom line, whether that's through increased ticket sales or class attendance, merchandising or just generally increasing the trust and enthusiasm of their contacts.
If you're interested in using an SMS service for customers to your sports centre or gym, then contact FastSMS today.
The British Equestrian Trade Association's findings from their National Equestrian Survey 2015 put the economic value of the equestrian sector at £4.3 billion of consumer spending across a wide range of goods and services, with the average spend per horse during the same year at £3600. It is an incredibly varied industry encompassing all types of businesses from sole traders making a living in remote areas to multinational companies. Their customer base typically tends to be busy people who lead largely outdoor lifestyles so the obvious and most effective means of communicating with them is by mobile phone, yet very few equestrian businesses appear to be utilising SMS text messaging marketing. So how could businesses in this sector benefit from this method of marketing?