5 SMS or Mobile Facts You Need to Know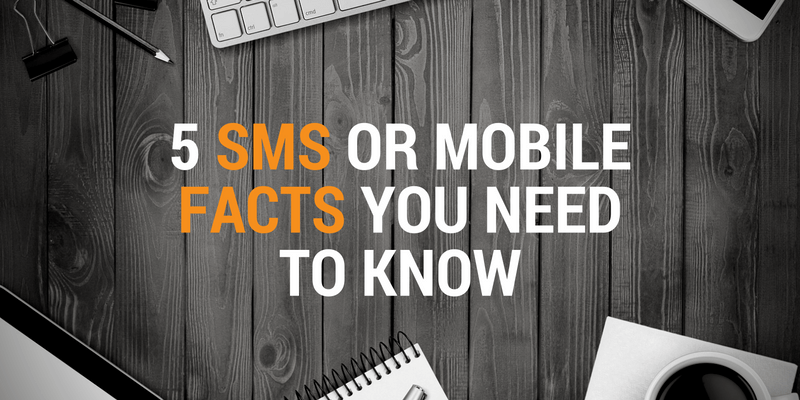 So many of us are used to having our mobiles around nearly 24 hours a day that it's easy to forget it's still a growing industry. And though SMS has been around for over two decades, the ways we use it and people's willingness to use it continue to grow. So for this blog I picked out five facts about mobile communications and SMS messaging that really make the case that SMS for business has come of age. Let's see if you agree.
People value their mobile more than pleasure. This one sounds kind of crazy but when asked what people would give up to keep their phone people were willing to part with simple pleasure items before giving up necessities. Here's what they would be willing to forgo:

70% alcohol
63% chocolate
33% sex
   The next item people in the survey would give up is their toothbrush, but 22% would still go that far!
SMS messages get read faster than emails. According to SAP, 76% of respondents to their survey say they will read a text message sooner than an email. If you want your message to get noticed quickly, SMS is the way to go.
People like getting text messages from organisations. In SAP's survey 70% felt SMS messaging is a good way for organisations to get their attention. Another 64% thought businesses should use SMS more often to communicate with them. More and more people are becoming comfortable with text messaging as a main form of communication. Why not take advantage of that?
Relevant SMS marketing can increase sales. In an Ipsos observer survey 64% of people said they'd made a purchase based on a text message they received that had a relevant offer for them. These consumers were already subscribed to mobile marketing from the companies involved. Email can only dream of reaching response rates like that.
A variety of offer types work well. Whether you send a price based, time sensitive, or location based offer, your response rates will still top 50%. The Ipsos observer study showed 66% of people will act on a price based offer, 52% to time sensitive offers, and 50% to location based offers. No matter how you look at it, those are awesome response rates.
So what do you think? Can we say SMS marketing is hitting its prime or is it still just beginning? Take a look at our Mobile Marketing Guide for more ideas.
If you're using social media or sending SMS marketing messages then you know all about link shortening. Or do you? Are all services the same, and are there options you didn't even know you had?Here are five questions you should ask before choose a service to shorten your links in your SMS messages.