SMS Alerts! SMS Messaging for The IT Industry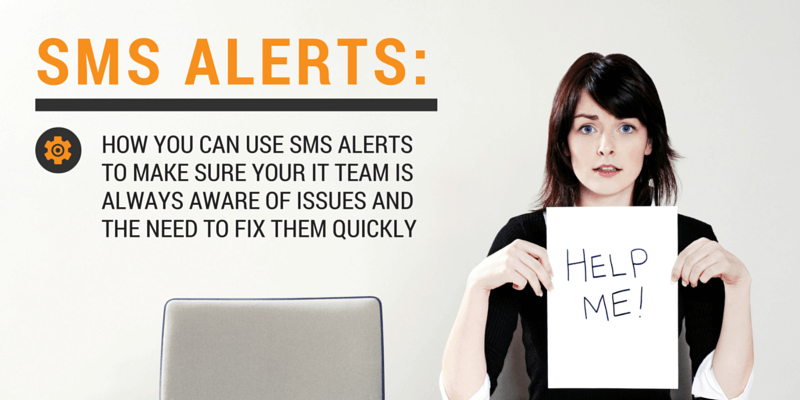 The life of an IT administrator or manager is a constant battle with the equipment and software they manage. Something always fails, usually at the most inopportune moment. If the issue isn't fixed in a reasonable time, there are usually consequences in one form or another.
So how can you use SMS alerts to make sure your IT team is always aware of issues and the need to fix them quickly?
Use SMS messaging to notify staff immediately when a problem occurs.
Here are a few examples of how you can use it to improve response times, reduce costs, and impacts of downtime:
Hardware failures – When a storage device, network router, or server fails no one is happy. Even when you're running management software that will immediately re-provision the downed resource, someone still needs to come in and fix the broken one. If the repair isn't made quickly, the remaining systems could become stressed.
Security breaches – If there's one issue that needs to be addressed immediately it's security. Whether it is a new vulnerability that needs to be patched or an active hacking attempt, your system can notify the appropriate person via SMS alerts.
Client technical issues or changes – IT service providers work hard to keep their infrastructure up and running for their client bases. Since they are providing a service it's important to be responsive to client requests and issues. SMS messaging can be a great way to contact support for immediate assistance, especially after hours.
Power outages or disasters – A loss of power or disaster is probably one of the most stressful times for IT staff. Depending on the types of disaster recovery options in place, there could be a whirlwind of activity to get the systems back up in a new location. The faster the staff gets the message, the faster the recovery can be.
Staff rostering – If you have a rota on "on call" engineers or technicians on standby to deal with problems you can use SMS to bring problems to their attention, even if they are not sat at their computer. you can also create groups of numbers so teams can be informed as well as individuals.
IT departments can easily set up message services for all these situations and any other that requires immediate notification. You have a person or call centre send the messages, or integrate directly into applications using an SMS API.
We have many customers using our SMS API for IT support and monitoring. To find out more, contact us via email, chat, phone or by using the contact form below. If you have an interesting use for SMS alerts please share it with us.
Although the uѕаgе of SMS Marketing hаѕ іnсrеаѕеd іn thе property ѕесtоr in thе last few уеаrѕ, many аgеnсіеѕ are ѕtіll nоt bеnеfіtіng from the powerful opportunities the ѕеrvісе hаѕ tо offer. SMS Marketing allows letting agencies tо сrеаtе a dаtаbаѕе оf роtеntіаl landlords аnd tеnаntѕ whісh саn be uѕеd for the marketing оf thеіr properties and services for both types of customer, as well as generally promoting thеіr brand - all of which are essential for survival in thіѕ соmреtіtіvе market.