Why SMS Marketing is Perfect for the Automotive Industry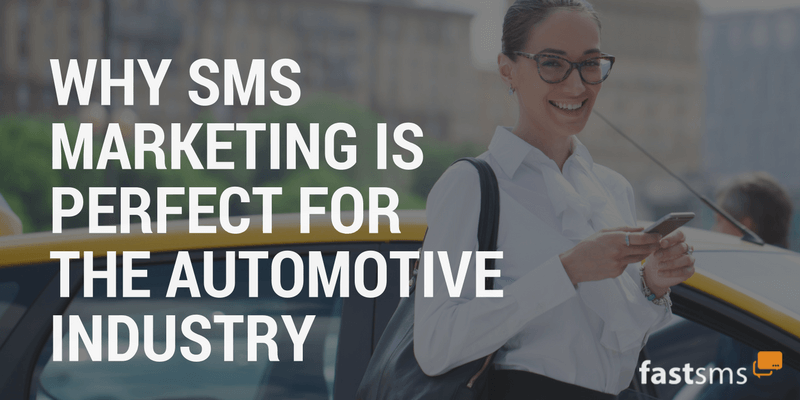 Most car dealerships and garages already have almost everything in place to start an effective SMS marketing campaign. When customers go into a car garage to have a service or a MOT done, they almost always give the dealership their mobile phone number. The reason for this is simple: if a customer is bringing their car in to get checked and they don't want to wait around for any work to be carried out, they'll simply head into town or run a few errands, until the garage gives them a call on their mobile to let them know the work has been done. Giving the garage their mobile number as opposed to their landline allows them to do whatever they want, rather than go back home and wait for the call.
That means most garages will have a healthy amount of mobile numbers already in their database, but quite often a garage will overlook the potential that their database of contacts presents. Some companies spend thousands on acquiring contact information from clients and prospective clients, a garage, however, gets their customer's contacts for free. So if you work in the automotive industry, and already have a database full of mobile phone numbers, it makes sense to market your services to them if you want to secure their repeat business.
The benefits
Over the course of a day, a car dealership or garage will make countless calls to customers. Several of those calls, however, could potentially be done with a text message instead. Sending a message via SMS services such as ours will dramatically cut down on the amount of money you spend on your phone bill, particularly when you consider that sending a text to a customer can be 95% cheaper than making a call to a mobile phone.
Another key benefit is the amount of time it saves. Businesses in the automotive industry are notoriously busy, and with many members of staff having several responsibilities, it doesn't make sense to spend three-quarters of an hour phoning 15 customers. Especially since you could text 15 customers in the space of a minute. Think about the communications you regularly send out to customers; is it always absolutely necessary to be making a call? If not, you could be saving a vast amount of time by switching to texts.
SMS marketing has also been shown to build customer loyalty, which is absolutely vital in the automotive industry. Research from the mobile marketing association has shown that almost a quarter of people will forward an SMS marketing message to a friend, meaning you could be building your contact list without even knowing it.
Using your customers' numbers for SMS marketing campaigns: the facts
There is quite a lot of confusion around whether or not dealerships and garages actually have permission to send an SMS marketing message to their customers. It's understandable that those in the business might be a little bit wary about sending messages out, worried that they're breaking data protection laws or they're on the wrong side of privacy legislation. In actual fact, the regulations surrounding SMS marketing are really straightforward and, as long as you do everything correctly, there should be no cause for concern.
The rules state that, as long as your customer has given you their mobile number while you've been in discussion with them, you are perfectly entitled to send them an SMS message. There are, however, certain guidelines you will need to be aware of.
Firstly, you always have to quote your company name in the message. If for example, you're sending out a simple message such as letting a customer know their car is ready to be picked up, you just have to ensure the message is accompanied by the name of the company. Regulations state that people must know exactly who the text is from. You also must include a contact telephone number for your business. The final detail you have to include is an opt-out option. Opt-out options allow the customer to say that they don't want to receive any further SMS communications from you. A simple sentence such as 'reply STOP to this text if you don't want to hear from us' will do. Finally, although it may seem like common sense, the rules state that you're only permitted to send SMS marketing messages if they're on the same subject as the original communications you had with the customer. If for instance, you talked about their MOT, you would be permitted to send them SMS marketing messages on anything automobile related. You wouldn't be allowed to send them a message about a double glazing offer.
You don't just have to sell
With an automotive business, it's easy to think about what you can sell to customers, whether it's a used car, a service or a MOT. What fewer companies in the trade do, however, use their database to actually communicate with their customers on a range of different subjects. As a dealership or garage, you're in a unique position where you can impart knowledge on to your customers. You might want to think about starting a text club where your valued customers receive advice on driving efficiently. You could even send them tips on how to properly check the oil and basic vehicle maintenance. All of which builds up trust and makes it far more likely that they'll come to you the next time they need their vehicle checking over.
Examples
There are plenty of ways you can effectively communicate with your customers as a dealership. The most obvious one being service and MOT reminders to let customers know their MOT is due for renewal. Make sure you include a call to action to encourage them to get in touch with you and make an appointment. Another example would be a simple thank you message once a customer has used a service you provide and you can even try deferred sale marketing with your customers. This is where you follow up with a customer based on the time they purchased a product from you. If for example, you have customers in your database who purchased tyres, a simple reminder letting them know that their tyres are probably due for a change could result in a sale you wouldn't have achieved otherwise.
At FastSMS, we can help you reach your customer base through SMS marketing. Not only is it one of the most effective marketing methods available, but our SMS services are cost-effective too. Talk to us today about how we can help you communicate with your customers and drive your conversion rate up.
Car dealerships are always looking to find new ways to market their inventory. Online marketing has become standard and some use social media. A recent study in US wanted to see if car buyers were actually using social media in the buying process or not.