SMS Tools Help Eliminate SMS Fraud in Your Taxi Services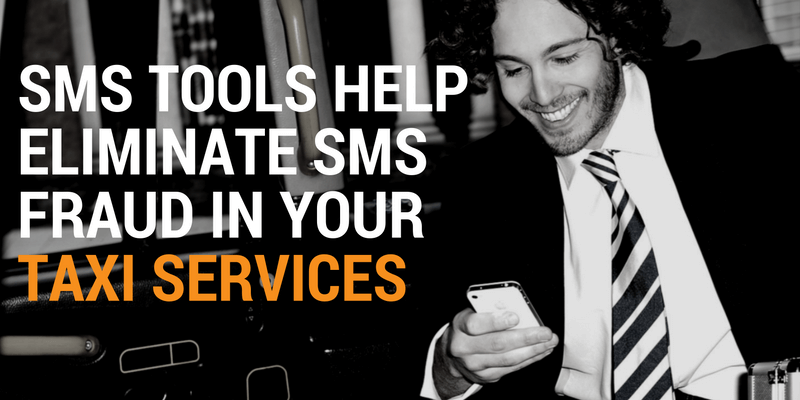 Are you plagued by invalid numbers or fraudulent mobile numbers for your taxi service? Or are you too afraid to use SMS for your services because you think it can be abused too easily? While there will always be someone trying to make trouble, the good news is that you can help stop people (competitors?) from falsely ordering a pick up. Our web-based SMS platform provides just the tools you'll need.
Before I talk about the specifics, I wanted to point out that SMS and taxis go hand in hand these days (provided there's a mobile in one of those hands). In fact, SMS taxi calling has been used for years all around the world. In the Far East travellers say it's often the only way to hail a cab. Many western companies rely primarily on SMS messaging for their bookings too.
Now that we've established SMS is a good acceptable method for booking taxis, let's take a look at how you can manage any issues that come up with mobile numbers.
If you've used, or read about, SMS messaging you'll know it's all about your lists and the data that goes with them. There are two main list types in our service: distribution list and blacklist (there are others too but these are the relevant ones for this blog). A distribution list is any list of numbers that you send messages to. The blacklist is exactly what you think it is: a list of numbers that you don't want to send a text message to at all.
So as you take bookings via SMS, you log the mobile numbers people use. Then you decide what you want to do with that number.  You can save it by adding it to a distribution list (for future marketing if they've opted in), add it to the blacklist so you never contact them again, or you can assign it a tag (or do combinations of these actions).
The Power of Tags
Tags are extremely powerful. They basically let you create folders for your messages so you can easily sort, or use them how you like. You can call the tags anything you want (using valid characters). In NetMessenger you can even automatically assign incoming messages tags either by the mobile number or by a word in the content of the message.
Here is how tags could work to help reduce fraud:
If the mobile booking resulted in a valid fare, assign it a "white list" tag. The white list tag, or folder, would then contain the set of "good" numbers you can rely on.
For no shows, assign it a tag of "no shows" (you can use whatever label you want really). So if a mobile calls and has this tag associated to it you can say "don't take the job" .
In this way you can check a number and see if it is "good" or "bad". For example, if you get a request for a pick up and you're about to send a reply to accept the job, search your messages to see if that number called before. If it has, you'll find it on the list with whichever tag you assigned it previously. Of course once you've identified a mobile number as fraudulent, you can set it up to automatically be tagged as a "no show" or whatever you called that tag.
So by using tags you're creating your own white list and black list. It's important to note that the designated blacklist in our system only automatically checks numbers you're sending to, not ones you're receiving messages from. And only numbers you assign to the built in blacklist will be checked. By using the built in blacklist you won't send a reply to the bad numbers (saving you money), but it won't stop you from receiving them. [View video on tags]
In fact, none of these things will stop you from receiving the messages at all, but the tools can help you decide which jobs to take and which ones you can ignore.
All of this can be done manually, and for a small taxi company that might be ok. But you can also use our API to set up simple programming rules to alert the driver or dispatch that the most recent booking came from a number that had been tagged as bad, so just ignore the request. Basically any action – message replies, checking for valid numbers – can be integrated into whatever software you use. But it is possible to do it all by hand from our web-based service too. [Visit our Developer Zone to learn more about the API]
If you aren't the type to do things on the fly, you can request people register to use your service before they send any SMS messages. This will get their mobile number into your system – and you can use a tag to identify it as valid – so you will know right away when it comes in that it's a good number. How you want them to register is up to you, but it could be right from your website, in person or over the phone.
Hopefully you can see how easy it is to manage a list of good numbers and a list of bad numbers using our system. If you want to know more about using SMS messaging for your taxi business, download our special report, Taxi and private hire guide to SMS messaging: How to use SMS messaging to increase bookings and streamline operations. The report covers what you need to know about SMS in general, specific use cases for taxi services, and the nine questions you should ask before choosing an SMS provider.
The phenomenal rise in popularity of online retail has seen the courier business change on a seismic scale. In this article, we look at how SMS messaging has found itself at the heart of the industry's transformation into a customer service led model where survival means delivering more than just the goods. Read on to discover some simple SMS techniques to improve your customer relations and brand image.