What Hotel Impossible Taught Me about SMS Marketing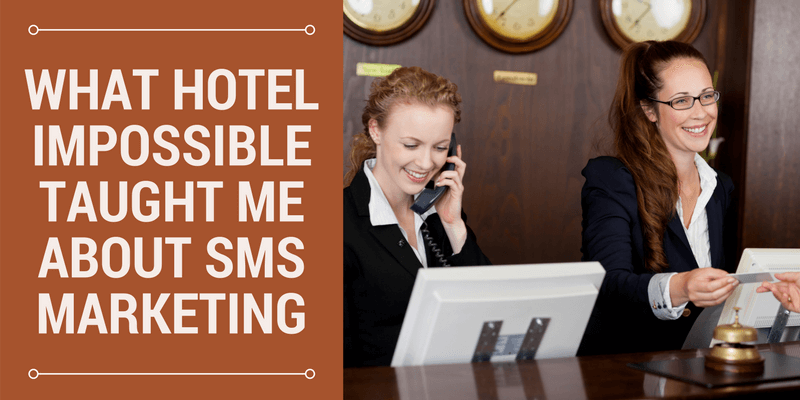 Have you ever watched the Travel Channel's Hotel Impossible? It's a show where the host, Anthony Melchiorri, tries to help save hotels that are failing. Much of the time, he finds that they're not clean, poorly maintained or there's ineffective management. But he also finds that many hotels spend way too much time and money on marketing in the wrong place: social media. Here's how it usually plays out:
Melchiorri asks about marketing and where their time and effort is going.
The hotel owner answers "social media" – Facebook primarily.
He shakes his head in frustration and the owner will defend themselves saying they have "thousands" of followers.
That's when he hits them with the big question:
 "How many bookings did you get from Facebook last year?"
Most don't know the answer, some will guess they a get few.
He goes on to make the point that social media has its place, but it isn't where you make money.
Episode after episode I see it: Struggling hotels paying a ton of money for social media marketing – and getting next to nothing from it. For the hotel, and many other industries, social media is more about brand awareness, lead generation and, at some level, relationships.
But there's a channel that lets you build relationships, loyalty and make money – and that's SMS marketing.
The Trouble with Social Media
A recent OFCOM report showed 77% of UK SMEs use social media as their primary digital marketing tactic. After watching Melchiorri, I started to wonder if there is a better way to invest some of that marketing money?
To answer that we need to change his question just a little bit to: "How much money did you make from social media last year?"
Perhaps you can answer that for your business. If you're getting a high return on investment (ROI) then social is certainly working for you – just be sure you're measuring ROI and not engagement, reach, or "likes". Those are important, but don't translate easily into an assessment of ROI.
A recent study by the Direct Marketing Association found that only 48% of marketers felt they received any return on investment. Another third basically said they weren't sure. It's possible to measure how effective your social media strategy is, but it can be complicated, especially for an SME that may or may not have the resources.
SMS Marketing Benefits
Now, contrast that with SMS marketing.
Mobile marketing, including SMS, has consistently been growing. One study showed 77% of marketers claim to have good ROI with SMS. That's up 147% over the year before, and certainly higher than the 48% for social media.
In that same study, 50% said mobile marketing (including SMS) was directly linked to their primary revenue.  And that would make Melchiorri very happy. That's because another thing he does is remind the hotel owners that their objective is to make money. Isn't that true for any SME?
So, if you're not seeing great ROI from social media (or don't know if you are), and you want to grow your revenue, consider using SMS marketing. While nothing in life is guaranteed, SMS is a better bet for completing sales than social media.
Even if your social media is doing fabulous, you might also want to start experimenting with SMS. Just think what could happen if you turned those thousands of Facebook fans or Twitter followers into buyers on your SMS list. That sounds like a win-win situation Melchiorri would love.
To learn more download our free "Hotel Marketer's Guide to SMS Marketing".
Your customers are likely thinking about food at certain times of the day, and at those times their phone is almost certainly within arms reach. Using SMS marketing you can time your messages perfectly because you know that the time you send them is the time they get read, usually within 2 minutes.