Throttling: The proactive way to manage your responses
If you are sending a high volume of messages at a time it is sometimes necessary that they sit in a queue before sending. With throttling you can specify how many messages are sent and how often.
In many cases your broadcast may hold a marketing message that is likely to trigger a response, for example an inbound phone call. By throttling you can specify how many messages are sent and how often, so they can be spread over a period of time preventing your staff from becoming overwhelmed. If you know the percentage of immediate responses you expect you can calibrate the throttling system to an optimum level ensuring maximum efficiency.
When you create a distribution list you have the option to enable throttling when broadcasts are made to those numbers.  Where messages are sent per hour, they will be sent at the start of each hour. Where messages are sent per minute, they are distributed across the hour, rather than all being sent at the start of the hour.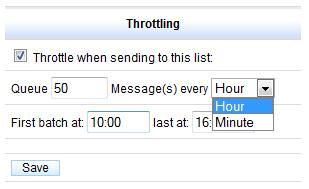 > Check the 'Throttle when sending to this list'

> Enter the number of messages you wish to be sent per hour/min

> From the drop down menu select Hour or Minute

> Select the start and end times

> Click Save
For more information on how you can get more out of your FASTSMS account browse this blog or refer to the Full User Manual
With many venues hosting exclusive black tie balls to welcome in the new year, suit hire has become a popular and increasingly affordable option for the discerning gentleman. Although many of your customers will have made their orders by now, there will inevitably be a last minute rush of enquiries. Whether you are managing relations with existing clients or seeking to attract new customers, SMS Marketing has a lot to offer both now and for the year ahead.