Email To SMS: What is it?
Email to SMS (or SMTP) allows all FASTSMS users to send an SMS text message from within any email client, anywhere in the world. It is also a simple solution for developers wanting to add SMS functionality to an application that already has email sending capability.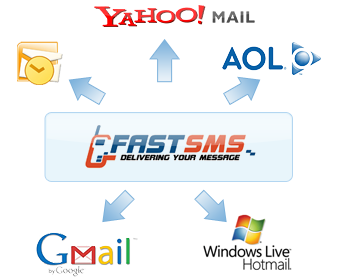 You can send a text message to any mobile phone from within any email client, including Microsoft Outlook and Outlook Express, Eudora, AOL and Pegasus by following a simple format.
This means that wherever in the world you are, you can send and receive text messages provided you have access to email. You can also receive texts into your email inbox by adding a Virtual Mobile Number (VMN) allowing you to manage your texts along with your emails.
There are many instances where this method is preferred such as when you want to limit your employees' internet access or build SMS into automated applications. For more information adding SMS functionality visit our Developer API page.
For more detailed information on Email to SMS and FASTSMS solutions in general, take a look at our Email to SMS brochure.
If you have any questions about Email to SMS or any aspect of SMS in general call us on 0800 954 5305 or email helpdesk@fastsms.co.uk alternatively you can find many answers to your questions in our Information Section.
Have you ever been inside a Walmart or ASDA Supercentre? If you have, you'll appreciate the possibility of what I'll share in a moment. If you haven't, try imagining walking into a store so big you can barely see one end from the other, where the shelves are packed with everything you might ever need, and staff who are often less than helpful (not everywhere mind you, but often). The point is you can get lost or frustrated if you're trying to find a certain item that you need, or is on sale. Finding the right section is sometimes challenging, and even if you think you're in the right spot you might not be.