Blacklisting
« Back to Glossary Index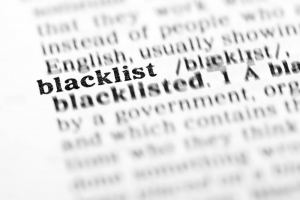 Blacklisting is a feature of NetMessenger that allows users to manage recipient numbers that should not be sent to again, whether by request of the recipient, or other circumstance. This feature is one of the main ways NetMessenger helps you stay compliant with the Privacy and Electronic Communications Regulations (PECR, or sometimes EC Directive), the regulations for using SMS messaging. It also saves you money.
If someone on your list requests you stop sending them messages, you need to remove them quickly and never send to them again (unless they later opt back in again). The blacklisting feature is a list of all the numbers who have requested you stop, or you otherwise want to exclude for some reason.
There are four ways you can add a number to the blacklist:
Type in the number manually then click "Blacklist Number"
Click the "Blacklist" button on a message in your inbox. This will then add the number of the sender to your blacklist, ideal if you get a stop request and don't use keywords.
Import into the blacklist from a CSV file
Use keyword processing to automatically add numbers to the blacklist
Before you perform a bulk send, you can "clean" the list against the blacklist. This means it will check to see if any numbers on your distribution list is also on the blacklist. If it is, the clean function will remove it from the distribution list.
Once you have a clean list you can send bulk messages without worrying that someone will complain that you sent to them after they said to stop. This also saves you money because you are only sending messages to people on your list who want them.
To access the blacklist for your account, log in and click on Contacts. You'll see the various list types: Individual, Groups, Distributions Lists, and Blacklist. Click on Blacklist. On the screen you'll see your blacklist and all the options you have for managing it.
If you have a Virtual Mobile Number (VMN) or a keyword on our shortcode you can set up the keyword processing necessary to add numbers to the blacklist automatically in your settings.
« Back to Glossary Index